Bitfenix Launches Recon White & Spectre Pro All White LED Fans!
Fri, Oct 05, 2012 - 3:02 PM
Today, BitFenix is announced the Recon White fan controller and Spectre Pro All White LED fan series. The company says that these new products are the perfect additions to any white-themed PC case and are just color updates. Both Recon White and Spectre Pro All White LED will be available beginning mid-October. The BitFenix Recon White has an MSRP of $39 or 34.90€ in Europe.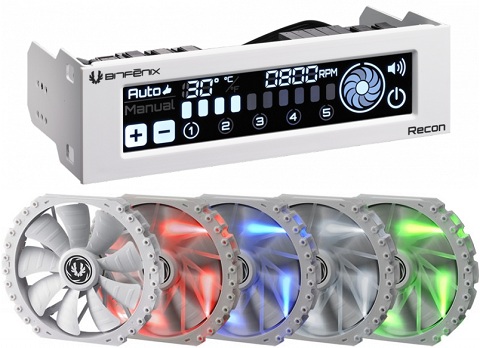 Sporting an Arctic White SofTouch bezel and a bright white LED touchscreen, Recon White looks fantastic in virtually any white case. The world's first Internet-connected fan controller, Recon White enables users to connect to it using smartphones, tablets or laptops via the Internet. Five fan channels offer plenty of connectivity for every case fan in your system, and the easy-to-use touchscreen interface displays current system temperatures and fan speeds, while giving easy access to the Recon's advanced functionality. Now available in white, Recon White keeps your system cool in more ways than one.