Battlefield 4 Gameplay Trailer Released – 17 Minutes of 'Fishing in Baku'
Wed, Mar 27, 2013 - 7:32 AM
Last night Electronic Arts unveiled Battlefield 4 at a special event during GDC. Battlefield 4 is scheduled to be released this fall and can be pre-ordered today for $59.99. The game title represents a huge investment by EA as it uses the new FrostBite 3 game engine to help gamers have that immersive experience in a video game that looks pretty damn good. Frostbite 3 has been in development since 2011 and has described by EA as an "evolution" of its existing Frostbite 2 engine, designed to create a "dynamic, human and believable experience" and allow for improved animations, destruction and AI.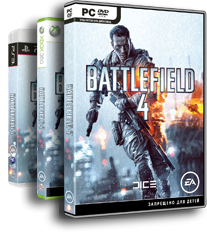 Thanks to the powerful new game engine and cutting edge graphics, this looks like one of those game titles where hardcore gamers might have to invest in new hardware in order to play it at acceptable frame rates with all the eye candy turned up. The game is supposed to make players as if they were completely immersed in a modern combat battle and with the right hardware it looks like that will be easily possible.
The 17-minute demo that was shown last night is available to everyone today and can be seen above. It starts out inside flipped over getaway vehicle , sinking in murky water, with four Special Forces soliders trapped inside. You have "Total Eclipse of the Heart" playing on the radio and the situation is dire. It turns out that the leader of the squad (Dunn) is hurt and pinned under his seat while they are sinking in the water. You play Recker, and Dunn hands over his magnum and one last order: shoot out the window, get everyone else out. Recker's teammates tell him not to do it. Dunn shouts it's the only way, takes aim at the window and pulls the trigger. A flashback happens and you learn how how they got into the perolous situation in the first place. The gameplay looks good and the graphics are amazing, so be sure to watch at the highest resolution possible on YouTube!
Here is the 60 second TV spot for Battlefield 4 as well!
Battlefield 4 is a genre-defining action blockbuster made from moments that blur the line between game and glory – moments found only in Battlefield. These 17 minutes of Battlefield 4 gameplay provide an exclusive look at BF4's single-player campaign. With dynamic destructible environments, epic vehicular combat, and the chaos of all-out war, Battlefield 4 gives you the freedom to do more and be more for an unrivaled entertainment experience.