AT&T MiFi Liberate 4G LTE Mobile Wi-Fi Hotspot Review
Sun, Jan 06, 2013 - 12:00 AM
4G LTE Performance and Conclusion
This very second AT&T offers 4G LTE service in 135 markets and is constantly adding cities to that list. AT&T hopes to have their 4G LTE covering 300 million people by year-end 2014!. In most other locations, you should get 4G HSPA+ data. AT&T claims nearly all their networks run on enhanced backhaul that supports both HSPA+ Plus and 4G LTE, so speeds should be fairly good across the country. AT&T's 4G network is said to cover more than 285 million people. We figured we'd put the AT&T network to the test on a recent trip that took place on January 5th, 2013. We started out at our offices outside the St. Louis city limits and then we completed field tests inside the airport terminals in St. Louis (STL), Dallas (DFW) and Las Vegas (LAS). We feel that testing this hotspot at various airports will give a decent look at how it performs in the real world!
Real World Performance Testing
Offices Outside St. Louis w/ 3 Bar Service:
With three bars of service we tested out the hotspot in St. Peters, Missouri flying down highway 70 with 3 bars of service and found that were getting an impressive 15.03 Mbps down and 11.25 Mbps up, which is pretty good for the St. Louis area.
St. Louis International Airport, Terminal C, Gate 6 w/ 3 Bar Service:
Sitting inside Lambert International Airport in Terminal C gate 6 we found the internet to be a bit slower, but still respectable. We were getting 10.44 Mbps down and 4.24 Mbps up.
Dallas Fort Worth Airport, Terminal A, Gate 14 w/ 4 Bar Service:
Once we arrived in Dallas for our layover we fired up Speedtest once again and found 4.41Mbps down and an impressive 10.40 Mbps up!
McCarran International Airport, Baggage Claim, w/ 4 Bar Service:
When we arrived to McCarran International Airport in Las Vegas we had to wait 40 minutes for our checked bag, so we jumped online in the baggage claim area and discovered that we were actually getting pretty good coverage. Five years ago you could barely get reception in the LAS baggage claim, so this was a pleasant surprise. The speeds we were getting in the bag claim were 16.56 Mbps down and 1.20 Mbps up.
Harrahs in Las Vegas – 5th Floor Guest Room w/ 3 Bar Service:
The last speed test we completed was in our hotel room along the Vegas Strip and we found that we were getting 7.39 Mbps down and 1.14 Mbps up. Not bad, but it looks like 1 Mbps upload speeds is all Vegas has to offer. This is a pretty big decrease from the ~10 Mbps upload speeds that we spotted in St. Louis and Dallas.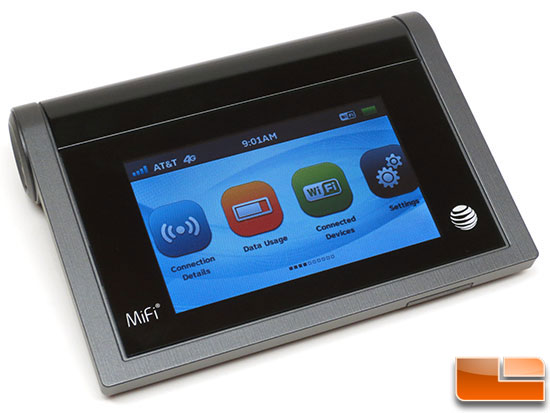 Final Thoughts & Conclusions
At the end of the day a hotspot is really just needed to get your mobile devices on the internet and without any issues. The AT&T MiFI Liberate Mobile Hotspot is packed full of features, but more importantly is uses the AT&T 4G LTE Network and has solid performance numbers in the cities that we tested it out in. The color touchscreen was nice and the user interface was simple to navigate and use. It even has features like DNLA for media streaming and GPS, which make this one fully featured hotspot! The performance and features of the AT&T MiFi Liberate are solid, so if you want a device that performs well, lasts a long time (around 10 hours in our field use) and is loaded with features this is it!
When it comes to pricing the AT&T MiFi Liberate mobile hotspot costs $49.99 with a 2-year contract, but can be purchased outright for $199.99 for those that don't want to sign one. You still have to pay for a monthly data plan on top of that and you are looking at $50 a month for a 5GB data plan. If you are a heavy user or plan on watching or uploading a ton of video content you can blow through that data plan in an evening with 4G LTE speeds.
Legit Bottom Line: The AT&T Liberate MiFI 4G LTE Mobile Hotspot gets you on the internet, but also has a plethora of other features that might come in handy down the road!