ATI Catalyst 10.3 Preview Update Driver Coming Out Tomorrow – ATI Ready For GF100
Tue, Mar 16, 2010 - 3:46 PM
We got word that ATI Catalyst 10.3 preview update drivers are coming out tomorrow and these drivers have huge performance improvements in them. It would appear that ATI has been holding some performance back on the Radeon HD 5000 series and has just unlocked all the performance currently available by driver updates to help keep the NVIDIA GeForce GTX 480 graphics card within arms reach when it launches on March 26th in Boston at PAX East. Click the link below and head to the forums to see the performance improvements. The mentioned games are: 3DMark Vantage,Aliens vs. Predator, Battleforge, Call of Duty: World at War, Company of Heroes, Crysis and Crysis Warhead, Devil May Cry 4, DiRT 2, DiRT 2, Enemy Territory: Quake Wars, Far Cry 2, Left 4 Dead and Left 4 Dead 2, S.T.A.L.K.E.R. – Call of Pripyat Benchmark, S.T.A.L.K.E.R. – Clear Sky, Resident Evil 5, Tom Clancy's H.A.W.X., Unigine Tropics, World in Conflict and Wolfenstein. Get ready for an epic video card battle on March 26th when the Radeon HD 5870 and the GeForce GTC 480 face off for the very first time!
UPDATE: Read our Catalyst 10.3a Performance Analysis here!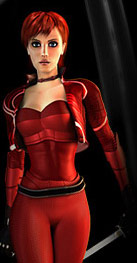 This ATI Catalyst driver update will unlock new performance improvements on top of the already previewed features in the initial Catalyst 10.3 Preview driver we sampled you in February. This driver will be available to download on March 17th from undgerground.amd.com and it will be called "Catalyst 10.3a Preview". On March 24th we will post the official Catalyst 10.3 WHQL certified on amd.com. The difference between the two is that Catalyst 10.3a Preview will contain future Eyefinty 6 updates and an Alien vs. Predator optimization which the Catalyst 10.3 WHQL posting does not have.