ASUS Z87-Pro Intel Z87 LGA1150 Motherboard Review
Wed, Jul 03, 2013 - 9:00 AM
Final Thoughts and Conclusions
Where to start… the ASUS Z87-Pro only has one drawback in my eyes, and it's strictly with my eyes, the color combination. Typically I don't care about the looks of a motherboard, but to me the gold and black color combination just doesn't sit well with me. Would that stop me from using the ASUS Z87-Pro motherboard? Not a chance! This board has the performance and features that offset and cosmetic differences that I have with it. It's always about function over form in my book! Now that I have my gripe about the aesthetics of the ASUS Z87-Pro out of the way we can get down to the good stuff. If you're already sold on the ASUS Z87-Pro you can pick it here for only $199.00 shipped. If not, well you should be! The ASUS Z87-Pro didn't hold anything back and was a great performing board throughout the day!
If you didn't check out the Legit Reviews Test page, you may not have realized the differences in the testing. The ASUS Z87-Pro was initially run with the XMP profile only. Once I started compiling the charts, it was noticed that the processor intensive tasks were a little on the slow side, still faster then our Intel Z77 'Ivy Bridge' system, but noticeably slower than the other Intel 'Haswell' systems. After a little digging I noticed that the ASUS ROG Maximus VI Hero motherboard had the processor running at 3.9GHz while under a full load, the ASUS Z87-Pro was running at 3.7GHz under a full load. This threw our results off since the processors were running at different clock speeds. After a little bit of digging it was noticed that the Maximus VI Hero set the core ratio to 'Sync All Cores'.
We asked ASUS about this, and their response is below:
ROG being our performance division uses our multi core enhancement rule we previously enabled. For mainstream series boards we follow Intel default specifications. This is to ensure optimal temperature performance under stock cooling configurations
While this was a little bit of a nuisance on my end, it was also a good learning experience. Enabling the 'Sync All Cores' feature in the UEFI BIOS can give a nice little performance boost. Just make sure that you're cooling system can handle a little extra heat from the processor.
Not unexpectedly, the ASUS Z87-Pro was able to take our Intel Core i7-4770K to 4.8GHz during our overclocking. Rumor has it engineering samples are better overclocking processors than retail samples. Whether or not this is an absolute truth remains to be seen, but if it is the case the ASUS Z87-Pro should have zero problems getting the most out of the Intel processor you get.
One of the aspects that sets ASUS apart is their commitment to innovation. They're always on the forefront of the industry, coming up with new features that set their boards and other products apart from the competition. The sheer amount of development and features that go into there boards and software like AI Suite III is astonishing. I tooled around the ASUS AI Suite III for awhile, playing with the overclocking and other features in the software and it all worked great. I was able to set up a wireless network and connect to the ASUS Z87-Pro without an issue, the ASUS AI Suite III software was very easy to use and work within.
Right now we can all pick up our own ASUS Z87-Pro LGA1150 motherboard for $199.00 shipped. When you consider that this board was able to go head to head with the ASUS Republic of Gamers Maximus VI Hero in most all of our tests today you know this is a great board. Of course there are other features sets that separate the Z87-Pro and the Hero so it's going to come down to what you're looking for. Though I certainly wouldn't hesitate to recommend either of them. If by some chance you have an issue with your ASUS Z87-Pro Intel Z87 Motherboard ASUS has you covered with a three year warranty, there's a good chance you'll never need it, but it's better to have it and not need it, than to need it and not have it!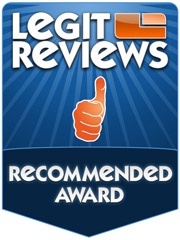 Legit Bottom Line: While the ASUS Z87-Pro maybe considered a 'main stream' board, there is no doubt that it will be able to keep up with the 'performance' boards out there.