ASUS Xonar DGX and Xonar DSX Audio Cards Reviews
Fri, May 17, 2013 - 12:00 AM
Test setup and some words on hardware requirements
The Xonar DGX and DSX sound cards were tested under both controlled and normal situations in a gaming desktop that can be considered typical. Sound cards are not system resource intensive and thus there were no performance issues seen on the humble Z68 test platform. The more important hardware was the listening devices used. The primary headphone used for testing was the Grado SR80i, though some listening was done with an Audio Technica ATH-A900X. Compared to speakers and a home theater, these audiophile headphones make it easier to detect musical detail and flaws. The preferred music player was foobar2000.
Grado SR80i and Audio-Technica ATH-A900X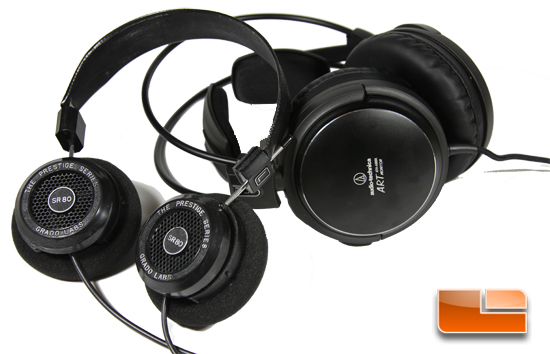 Grado SR80i impedence: 32 ohms
Audio Technica ATH-A900X impedence: 42 ohms
Intel Z68 Platform
 

Intel Z68 Audio Test Platform

Processor

Intel Core i5-2400

Motherboard

ASUS P8Z68-V LE

Memory

8 GB G. Skill Sniper 1333 MHz

Video Card

XFX Radeon HD 6950 1 GB

Power Supply

XFX Black Edition 850 Watt

Operating System

Windows 7 Professional 64-bit

Audio

Realtek ALC892 (integrated on motherboard)

ASUS Xonar DGX

ASUS Xonar DSX
We were informed by ASUS that power consumption for each sound card is fairly small at less than 10 watts.
Preliminary testing also showed that there was no effect on raw computer performance. Using FRAPs, there were no obvious impacts to gaming performance.