ASUS USB-AC53 Dual-band Wireless-AC1200 Adapter Review
Mon, Jul 01, 2013 - 12:00 AM
ASUS USB-AC53: Final Thoughts & Conclusions
After installing and using the ASUS USB-AC53 for everyday use around the house and office, we found the adapter to be a very capable replacement for our built in 3-antenna wireless-N network adapter. If you are currently running a 2-antenna (N300) wireless adapter, you will see significant (almost 200%) improvement in speeds. For a street price of $49.99 shipped, you definitely get a lot of bang for your buck.
The upgrade from a Killer Wireless-N 1103 (N450) is not as breathtaking. Does it get you Wireless-AC speed? Sure, but in the real world, how much of an improvement is that? Our test numbers show that is sort of a push. There is an improvement in speed with larger packet sizes, but for the most part, the Killer NIC's performance is about even with that of the 867Mbps USB-AC53.
But really, most mobile laptop users aren't running a Killer Antheros three-antenna rig and are reading this review to see if the step up to Wireless AC via ASUS USB-AC53 adapter is worth it. Clearly the answer is yes, this adapter does make a HUGE difference in the speed of your laptop – especially if you aren't running an exotic wireless adapter.
When using the ASUS USB-AC53 in 5GHz mode, we did notice we had significantly less range than we did with our Wireless-N. Of course this is to be expected but since the Killer 1103 is such a good device, the difference was magnified. We did try the 2.4 GHz signal and while it improved our total range, throughput speed was reduced tremendously.
After viewing the results of our real-world speed tests, we started to wonder if we were actually hitting the USB 2.0 cap of 480 Mbps (effective throughput up to 35 MB/s or 280 Mbit/s). While we observed peak measurements around 37-38MBps during our various tests, so this indicates that we are pretty much saturating the High-Speed USB 2.0 controller. The 8021.11ac Wireless AC standard can reach speeds of more that 1Gbps, so ASUS will be releasing the USB-AC56 AC Adapter which is a SuperSpeed USB 3.0 version of the USB-AC53 to help mitigate the USB interface bottleneck.
The ASUS Wireless Utility proved to be very handy for identifying the network you try to connect to initially. After that, we didn't open the utility at all unless it was to check signal strength or connect to a different wireless network.
One of the problems with the ASUS USB-AC53 comes because of the sheer size of the device. With the device plugged directly into our laptop, there is no room to plug an additional USB device next door. For many laptop users, this will be essentially take out two (or more) USB ports.
Even though the ASUS USB-AC53 is a bit bulky to hang off of your laptop computer, ASUS does provide you with a couple of different options to make the best out of the form factor. First of all, the cable and cradle they use is perfect for people who use their laptop as a desktop replacement and it wont take up multiple USB slots. The cable is a little too short to be used with a traditional desktop PC that sits on the ground. Of course you can always replace the cable with a longer USB cable so that really isn't a deal breaker.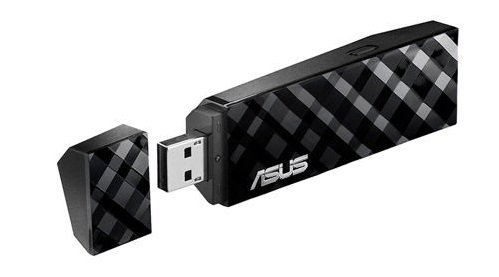 One other thing to note on this ASUS adapter: There were many early releases of this AC adapter which claimed that the Wireless-AC1200 adapter was MacOS compatible, this is not the case. The ASUS Utility software that is shipped with the ASUS USB-AC53 only works on Windows-compatible devices. (At press time, we were still not sure if it worked under Linux or other Open Source environments. Our assumption is that it does not.)
Even through all of the different 'quirks' of this network adapter, we still think ASUS has delivered a pretty strong product to give users an easy – and economical – way to upgrade to Wireless-AC. ASUS ships the USB-AC53 Dual-Band Adapter with a 2-year Limited Warranty depending on the region of the world you are in.
Legit Bottom Line:
The ASUS USB-AC53 Wireless-AC Dual-Band Adapter is a great way to upgrade your legacy network connection on your current laptop PC. We were hoping for faster overall speeds, but at this price point ASUS has delivered an excellent way of stepping into the Wireless 802.11ac world.