ASUS Launches the GeForce GTX 670 DirectCU Mini Video Card
Wed, Apr 03, 2013 - 8:58 AM
ASUS announced that the GeForce GTX 670 DirectCU Mini, a compact high-performance graphics card designed primarily for small form factor PCs with mini ITX motherboards, is now available! The dual-slot card measures just 17cm (6.7″) and features the NVIDIA GTX 670 GPU for DirectX 11.1-compatible gaming. The reference GTX 670 measures 24.13cm (9.5″), for comparison.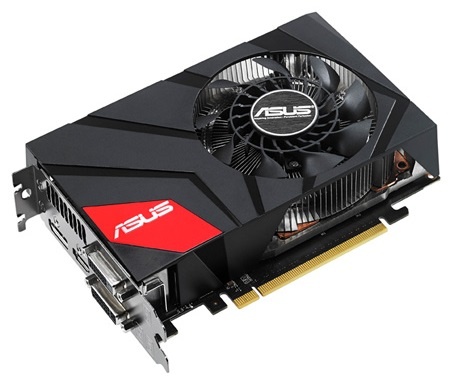 The ASUS GeForce GTX 670 DirectCU Mini features a GPU base clock of 928MHz with a GPU boost clock of 1006MHz on the 1344 NVIDIA CUDA cores. The 2GB of GDDR5 memory tuns on a 256-bit memory interface at 1502MHz (6008MHz effective). The card features DVI-I, DVI-D, HDMI and Display Port video outputs and ready for it all. The ASUS GeForce GTX 670 DirectCU Mini is sold under part number GTX670-DCMOC-2GD5. We looked for the card on Amazon and Newegg this morning, but couldn't find it or any street pricing for you! It might be released, but you can't buy it just yet!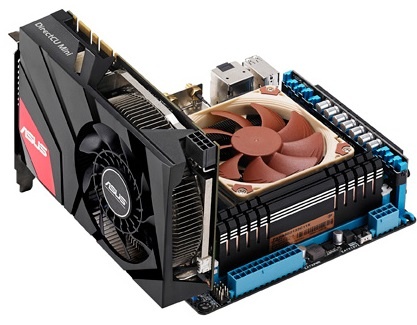 Small form factor PCs based on mini ITX motherboards are a popular choice for gamers and home users. Their compact cases are much easier to transport to LAN parties than a standard desktop PC, and stylish designs with comparatively low power requirements make them a natural choice for home theater PCs. The ASUS GeForce GTX 670 DirectCU Mini is designed to maximize the potential offered by mini ITX motherboards by delivering high performance graphics. It uses an innovative DirectCU thermal design that combines a heat-spreading vapor chamber and the CoolTech Fan, which uses wide-angle airflow and venting to cool critical graphics card components.