Legit Mobile Reviews
Cyberpower Zeus M2 Intel Ultrabook Review
| | |
| --- | --- |
| Manufacturer: | CyberPower PC |
| Product: | Cyberpower Zeus M2 |
| Date: | Wed, Jan 02, 2013 - 12:00 AM |
| Written By: | Dan Stoltz - |
| Share: | |
Final Thoughts & Conclusions
The Cyberpower Zeus M2 isn't without issues, or perhaps I should say features that I would have like to see different. That's a better way of saying it. Before we get into that though, let's look at the features and performance of the Zeus M2 that I was nothing short of happy with.
The hardware was nothing short of impressive. Starting with the screen, everything was crisp and bright. I'm personally not wild about glossy screens, I tend to catch to many reflections of my surroundings when using them. That being said, it's certainly more a preference than an issue with the Zeus M2. A slight issues I did have is the resolution, 1366x768 seems to low to me. 1366x768 doesn't give us a lot of desktop real estate to work with, 1600x900 or even 1920x1080 would have been nice to see. Then again, it would have increased the price of the Zeus M2, and keeping the price down is always a good thing. Perhaps it's me, and my typing ability (or lack thereof) but I was happy with the keyboard. It seems like such a small thing to notice, but whenever I'm on the road and I have to use my personal laptop I almost dread it. I am always having to go back and fix typo's from hitting two keys at once since they are so close together. I took the Zeus M2 on the road with me and spent the evening writing on it, and despite having the same size keyboard I didn't have to go back nearly as much as I am used to.
Potentially one of my favorite features of the Cyberpower Zeus M2 Ultrabook is the ability to upgrade it. When we looked at the ASUS Zenbook Prime UX31A everything was either proprietary or soldered to the board. That's not the case with the Cyberpower Zeus M2, most of the system can be upgraded, swapped out, and replaced! The Intel 520 Series SATA III 6Gbps SSD being used is a standard 2.5" drive, though it does have the lower Z height of 7mm. The memory being used is a pair of typical DDR3 SoDIMMs, then again there is nothing typical about the Corsair Vengeance 1600MHz that you can have with the free upgrade right now!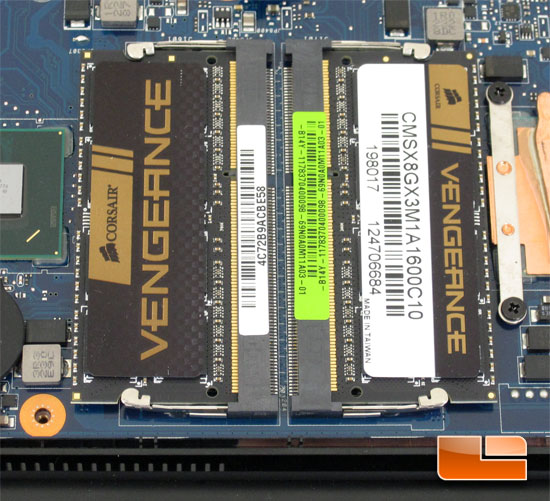 The measurable gaming performance wasn't exactly ideal if you are looking to play the latest titles like Borderlands 2, Skyrim, and the likes of those games. At least not if you are looking to get the latest and greatest DirectX 11 eye candy with all the bells and whistles turned on. The Intel HD 4000 Graphics simply can't handle that type of gaming. If you're looking for a hardcore gaming laptop something along the lines of the Cyberpower XPlorer series may better suite your needs. Though if you're looking to do some light gaming on the go, the Zeus M2 is a great option. The Intel HD 4000 graphics aren't great but they will get the job done with the image quality turned down. How far you have to turn down the I.Q. will depend on the game.
The key to Ultrabooks is the convenience of power on the go. The Cyberpower Zeus M2 has no shortage of either. Weighing in at under four pounds it is certainly portable, barely even notice it's in the bag. Having the Intel Core i5-3317U at its' heart it has no shortage of power under the hood. Sure there's always faster, but for most of us a quad core Intel 'Ivy Bridge' is all we'll need.
The only real issue I have with the Cyberpower Zeus M2 is the buttons on the track pad. Out of the box they were incredibly stiff and difficult to use. After a couple weeks they have loosened up a little bit after constant use. I'm hoping that the buttons continue to loosen up over time, but that will be something that we'll just have to wait and see.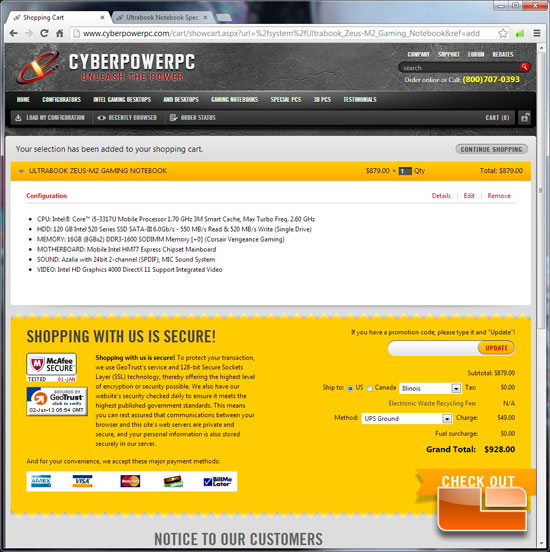 Intel Ultrabooks aren't the most budget friendly computer out there, at least not if you're looking at something with some solid parts. With a starting price of only $879 the Cyberpower Zeus M2 is an investment, to make sure there aren't any issues with it, Cyberpower backs the Zeus M2 with a one year limited warranty with life-time technical support! If you ever have questions about your Zeus M2 you can call up Cyberpower and talk to them, that's probably one of my favorite features from Cyberpower.
Legit Bottom Line: The Cyberpower Zeus M2 has been a pleasure to use and work with. It was more than enough for the daily tasks I needed it to do and even some light gaming. If you're in the market for an Ultrabook, the Cyberpower Zeus M2 is a great option for you!
Questions or Comments? View this thread in our forums!