ARM Launches Cortex-A50 Series 64-Bit Processors
Tue, Oct 30, 2012 - 1:08 PM
ARM announced the new ARM Cortex-A50 processor series based upon the ARMv8 architecture, extending ARM's leadership in performance and low power. The series initially includes the Cortex-A53 and Cortex-A57 processors and introduces a new, energy-efficient 64-bit processing technology, as well as extending existing 32-bit processing. The scalability of the processor series enables ARM partners to create system-on-chips (SoCs) that address diverse markets, from smartphones through to high-performance servers.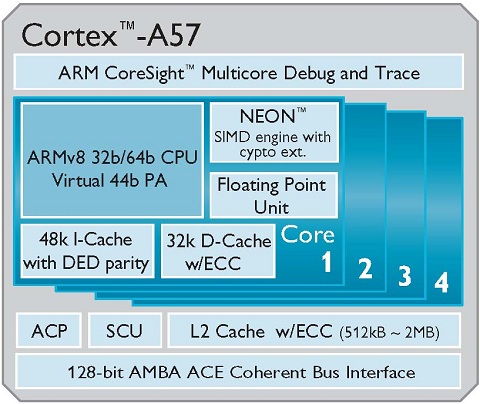 The new Cortex A57 and Cortex A53 processors follow ARM's Cortex A15 and Cortex A7, respectively. The A53 delivers the same performance as the Cortex A9 used in Nvidia's Tegra 3 chipset, but it'll be just a quarter of the size. The A53 and A57 being 64-bit processor means that memory space will be unlocked for higher capacities, so this will be critical for systems running Windows RT that need more money. Processors form AMD and Intel have been 64-bit for some time now, so ARM is closing the technological gap a bit with the release of this new processor series.
"Consumers expect a personalized mobile experience, integrating their daily lives, with seamless connectivity providing access to vast amounts of information. The ARM ecosystem will continue its rate of unprecedented innovation to enable diverse platforms. This will deliver an era of transformational computing, from mobile through to the infrastructure and servers that support consumers' connected, mobile lifestyles. This will create massive opportunities for market expansion and a revolution in user experiences," said Simon Segars, executive vice president, processor and physical IP divisions, ARM.