Apple iPhone 5 Panorama App Vibrates Itself In Circles!
Mon, Dec 31, 2012 - 10:21 AM
Cycloramic, an app released last week, takes hands-free panoramic video to the next level by uses the phone vibrate feature. by using the phone's internal sensors. As the phone revolves around in a circle the app records a 360-degree view!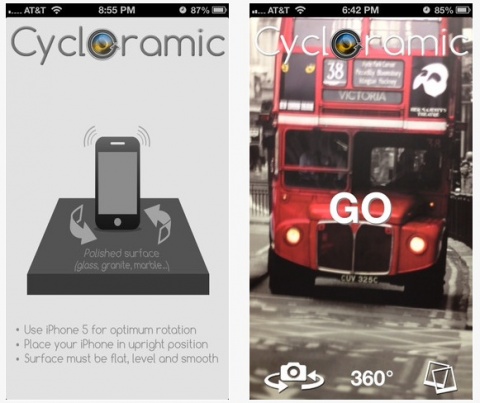 The $0.99 app has nothing that needs to be setup and is simple to use. You just need to set your iPhone upright and on a smooth, clear surface such as glass or granite. Press the camera icon on the bottom left to switch the iPhone's camera from front- to rear-facing or vice-versa. Choose from one, two or three revolutions, and then press "Go." The app will make the iPhone 5 vibrate in such a way as to turn the upright device in a full circle! No sound is recorded, so no need to worry about the vibration ruining the audio. You can see a video of it in action below. How about that for an easy hands-free way to take 360-degree video!
To use the Cycloramic app:
SET YOUR PHONE TO 'Vibrate on Silent' AND 'Vibrate on Ring' OR THE PHONE WILL NOT ROTATE. (Settings-Sounds-Vibrate menu)
Remove any phone cover or protection.
Place iPhone 5 in upright position on smooth, level surface
Surfaces such as glass, marble or polished wood are ideal
Hit "Go" and the panoramic shooting begins!