AMD Vishera CPUs w/ Piledriver Architecture Brings 10 Cores & Quad Channel Memory
Fri, Jan 20, 2012 - 2:25 PM
AMD's "Zambezi" FX processor family may have been a let down due to all the hype that "Bulldozer" had, but AMD fans may have hope. AMD's upcoming "Piledriver" architecture, codenamed "Vishera" for the desktop segment, is said to support 10 CPU cores in 5 modules and much better performance. New information has come forth from an internal Software Optimization Guide for AMD's 15h family that recently leaked out.
CPU World acquired the Software Optimization Guide, that has detailed information on the Piledriver architecture, namely "Vishera" (high-performance desktop), "Terramar" (high-density server), and "Sepang" (small-medium business server). Interestingly enough, the three are not the first CPUs to be based on Piledriver, AMD's APU chips codenamed "Trinity" which will release later this year will in fact be the first Piledriver based processor or APU in this case. This is based on the fact that Trinity's instruction sets bare a striking resemblance to Vishera, Terramar, and Sepang. The most interesting chip for our readers is Vishera, which will feature a Quad Channel DDR3 memory controller much like Intel's Sandybridge-E CPUs. The rumored IPC improvements of Piledriver over Bulldozer were expected, but the addition of a Quad Channel memory controller was not.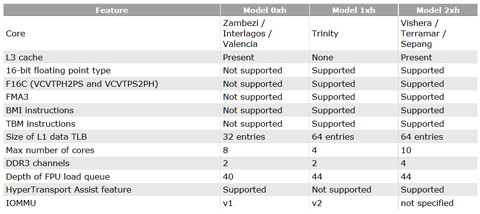 Microprocessors with model 1xh will have up to 2 modules, or 4 cores, and will lack L3 cache. These characteristics match upcoming Trinity core, that will be utilized by mobile AMD chips. Model 1xh CPUs will also have enhanced IOMMU, or IOMMU v2, that will improve access of I/O devices to system memory, and will add such features as direct access to user I/O space, and interrupt remapping and filtering.