AMD Unveils the Radeon HD 7990 "Malta" Dual-GPU Video Card at GDC 2013
Wed, Mar 27, 2013 - 7:04 AM
For many weeks we have been hearing rumors of an unreleased AMD dual-GPU powered video card card codenamed Malta that would be able to outperform the PowerColor Devil 13 and ASUS Ares II. Last night at GDC in San Francisco we were able to see Malta, which is going to be known as the AMD Radeon HD 7990 when it is released later this year.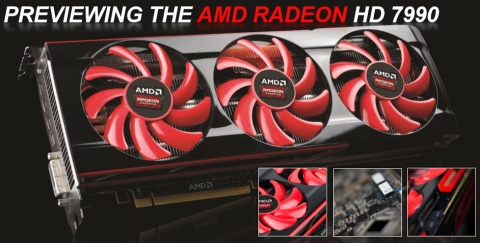 The AMD Radeon HD 7990 looks just like the Radeon HD 7990 that we have seen pictures of for over a year now, but there are some major differences. AMD is using a pair of Tahiti XT2 GPUs on this beast, so it will have higher boost clock speeds and all the latest AMD Graphics Core Next technology that can be had.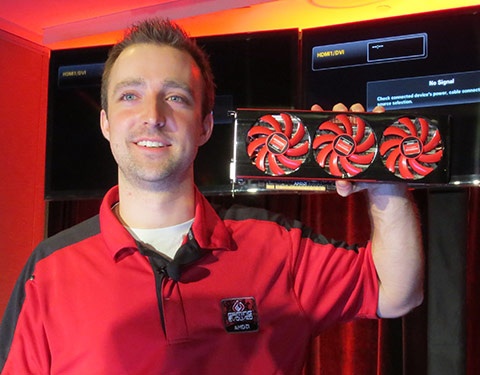 The card features a massive dual-slot heatsink with has three cooling fans. In the photo above you can see Devon Nekechuk, AMD product manager for high-end graphics, showing off the card to a room of international press.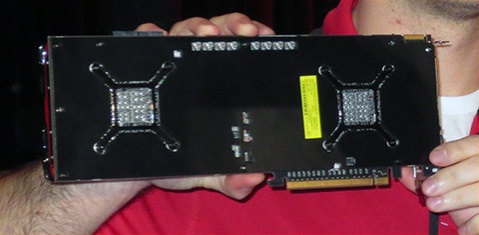 The back of the AMD Radeon HD 7990 'Malta' video card features a backplate and you can clearly see the GPU cooler mounting systems on each of the GPUs. We forgot to take a clear picture of the power connectors, but it has two 8-pin PCIe power connectors that are located along the top edge of the card.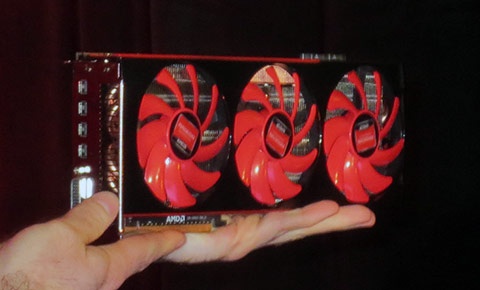 When it comes to video outputs you'll see that there are four mini-DisplayPort and a single dual-link DVI-D connector. One side of the bracket is just to exhaust hot air and behind the exhaust vents you can clearly see four copper heatpipes. We aren't sure what clock speeds the Malta card will be running, but we expect it to be just over 1GHz with boost, so good cooling is a must! If all goes as planned we might see this card hit the streets later this quarter and AMD board partners will have some custom cards available!