AMD Radeon HD 8790M Video Card Preview
Fri, Dec 28, 2012 - 12:00 AM
3DMark 11
3DMark 11 is the latest version of the world's most popular benchmark for measuring the 3D graphics performance of gaming PCs. 3DMark 11 uses a native DirectX 11 engine designed to make extensive use of all the new features in DirectX 11, including tessellation, compute shaders and multi-threading.
We ran 3DMark11 with both the performance and extreme presets to see how our hardware will run.
3DMark11 Performance Benchmark Results: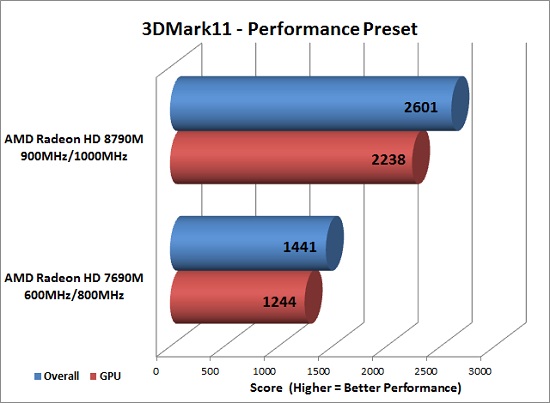 Benchmark Results: The AMD Radeon HD 7690M scored 1441 3DMarks and the Radeon HD 8790M scored 2601 3DMarks in 3DMark11 with the performance preset. This makes the Radeon HD 8790M around 80% faster than the AMD Radeon HD 7690M!