AMD Radeon HD 8790M Video Card Preview
Fri, Dec 28, 2012 - 12:00 AM
Battlefield 3
Battlefield 3 (BF3) is a first-person shooter video game developed by EA Digital Illusions CE and published by Electronic Arts. The game was released in North America on October 25, 2011 and in Europe on October 28, 2011. It does not support versions of Windows prior to Windows Vista as the game only supports DirectX 10 and 11. It is a direct sequel to 2005's Battlefield 2, and the eleventh installment in the Battlefield franchise. The game sold 5 million copies in its first week of release and the PC download is exclusive to EA's Origin platform, through which PC users also authenticate when connecting to the game.
Battlefield 3 debuts the new Frostbite 2 engine. This updated Frostbite engine can realistically portray the destruction of buildings and scenery to a greater extent than previous versions. Unlike previous iterations, the new version can also support dense urban areas. Battlefield 3 uses a new type of character animation technology called ANT. ANT technology is used in EA Sports games, such as FIFA, but for Battlefield 3 is adapted to create a more realistic soldier, with the ability to transition into cover and turn the head before the body.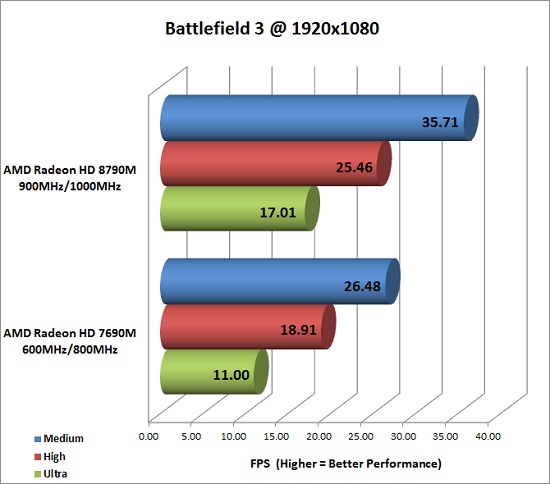 Benchmark Results: We ran Battlefield 3 at 1920×1080 with three image quality presets to see how the two mobile graphics cards could handle a tough game title like BF3. Our testing shows that the AMD Radeon HD 7690M was able to play BF3 with decent performance with medium quality settings. The AMD Radeon HD 8790M was able to run with the high image quality setting and have similar performance to the Radeon HD 7690M with the medium IQ preset. The difference between medium and high is pretty significant in the game, so it being able to run BF3 on the AMD Radeon HD 8790M with high settings was pretty impressive. We still noticed stutters or hesitations in tough scenes with the high preset though. If you want a smooth gameplay experience we would suggest running with medium quality settings as we averaged 36 FPS and everything was great in the game.