AMD Radeon HD 7990 'Malta' Video Card On Ebay!
Tue, Apr 16, 2013 - 6:35 PM
Are you waiting on the AMD Radeon HD 7990 'Malta' video card to be released? An AMD Radeon HD 7990 'Malta' Engineering Sample card was listed up Ebay today that managed to grab our attention this evening.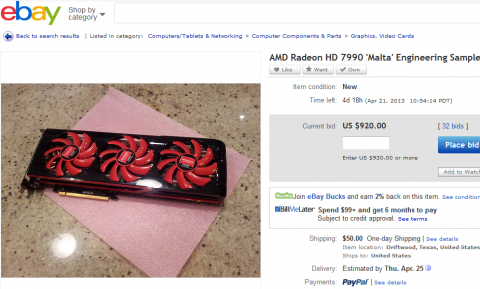 The card is being sold as an auction item and is currently at $920 plus $50 shipping. Over 32 people have bid on the card that isn't yet available to the public. The card is located in Driftwood, Texas and that is only 25 miles from AMD's offices in Austin. The description of the card shows it as having a clock speed of 950MHz on the two 'Tahiti' GPU cores and 6GB of GDDR5 memory running at 1500MHz (6000MHz effective). The card has two 8-pin PCIe power connectors and for up to 375 Watts of power. The card has four mini DisplayPorts and a Dual Link DVI video output. I have a feeling that AMD won't be too happy about this one!