AMD Radeon HD 7990 6GB Malta Video Card Review
Tue, Apr 23, 2013 - 11:00 PM
Dirt: Showdown
Dirt: Showdown is a video game published and developed by Codemasters for Microsoft Windows, Xbox 360 and PlayStation 3. It was released in May 2012 in Europe and in June in North America. It is part of the Colin McRae Rally game series.
Dirt: Showdown removes several of the gameplay modes featured Dirt 3, and introduces new ones. Gameplay modes can be classified as Racing, Demolition, Hoonigan or Party. We ran the built in Benchmark at Ultra settings to get a true feel of what this engine has to offer!
It is very important to note that Global Illumination and Advanced Lighting have massive performance penalties when enabled, something not seen in other titles in the Dirt series. We disabled this setting.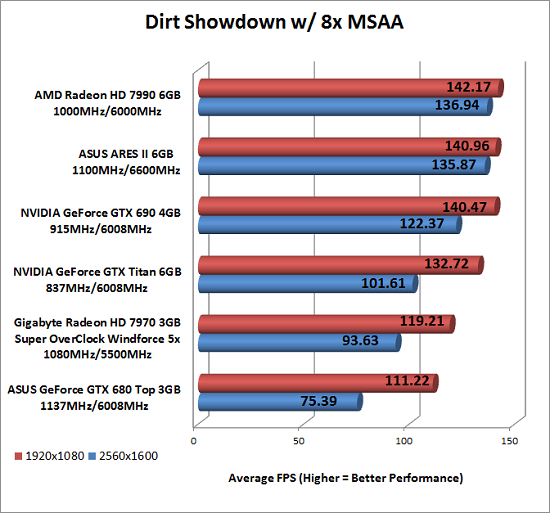 Benchmark Results: The AMD Radeon HD 7990 pulled ahead of the ASUS ARES II by just 1-2 FPS at both resolutions. The NVIDIA GeForce GTX 690 and GeForce GTX Titan weren't too far behind though and both were over 100FPS at 2560×1600 with everything cranked up. All of the cards were able to run this title smoothly with no jitters or issues.