AMD Radeon HD 7990 6GB Malta Video Card Review
Tue, Apr 23, 2013 - 11:00 PM
3DMark 11
3DMark 11 is the latest version of the world's most popular benchmark for measuring the 3D graphics performance of gaming PCs. 3DMark 11 uses a native DirectX 11 engine designed to make extensive use of all the new features in DirectX 11, including tessellation, compute shaders and multi-threading.
We ran 3DMark11 with both the performance and extreme presets to see how our hardware will run.
3DMark11 Performance Benchmark Results: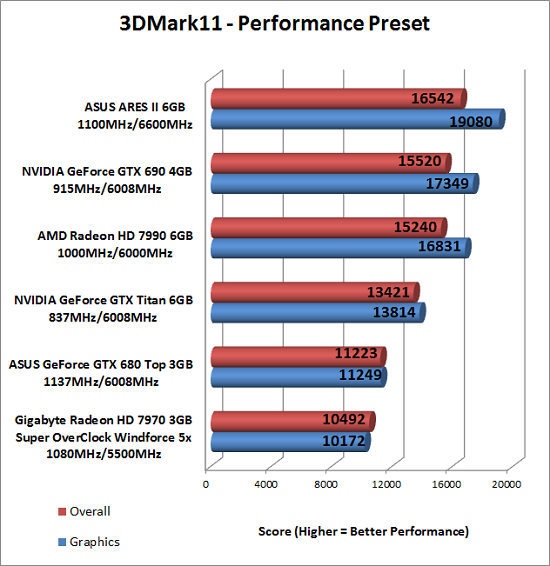 Benchmark Results: The ASUS ARES II scored P16542 3DMarks, the NVIDIA GeForce GTX 690 scored P15520 3DMarks and the AMD Radeon HD 7790 scored P15520 3DMarks in 3DMark11 with the performance preset. Not bad scores from the $999 and above graphics cards!
3DMark11 Extreme Benchmark Results: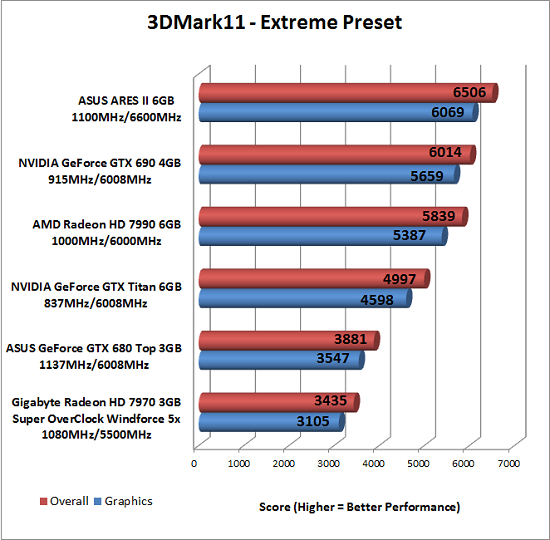 Benchmark Results: When Futuremark 3DMark11 is run with the extreme settings the performance scaling between the test cards is almost linear, which is pretty wild. The AMD Radeon HD 7990 6GB video card was able to score X5839 on 3DMark11 with the extreme preset!.