AMD Launches AppZone, Allows Windows PCs To Run Android Apps Via AppZone Player
Fri, Sep 28, 2012 - 2:18 PM
AMD has announced the launch of the AppZone, an online showcase for games and applications that are accelerated by the company's APUs and Radeon GPUs. Essentially the AppZone offers users the ability to run popular Android apps on AMD-based PCs running Windows. This of course is due to the collaboration between AMD and BlueStacks to develop the AppZone Player. The software is powered by BlueStacks' technology and allows users to sync AppZone apps with their Android devices via Cloud Connect. This service is how BlueStacks enables a Windows PC to become an extention of the Android device and vice versa.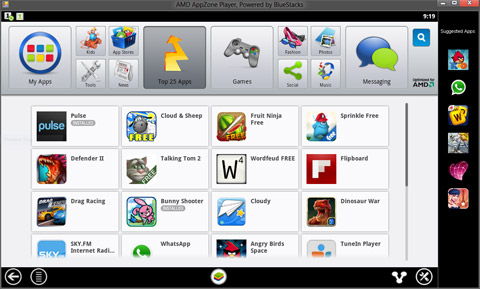 Rosen Sharma, CEO of BlueStacks has said "As the engine behind the AMD AppZone Player, we are providing a potent combination of award-winning software optimized for AMD's industry-leading hardware. Consumers can now enjoy their favorite mobile apps on the larger, more immersive screen of their PC," and that "With BlueStacks technology, app developers can rest assured their Android apps will run directly on Windows without any code change. We've made it easy for all." AMD and BlueStacks are now working with OEMs to get the AppZone Player preloaded onto upcoming AMD-powered devices. Readers can check out the AMD AppZone
here, or in the VISION Engine Control Center. More info can be found on our forums linked below.
Powered by BlueStacks' award-winning technology, the AMD AppZone Player brings thousands of Android apps to the millions of AMD-powered tablets, notebooks, all-in-one and desktop PCs worldwide. In addition, consumers can automatically sync their AppZone apps with Android-based devices via BlueStacks Cloud Connect, a cloud-based service that enables a Windows-based PC to become an extension of an Android mobile device and vice versa.