AMD Kabini Mainstream APU Notebook Platform Preview
Thu, May 23, 2013 - 10:00 AM
Power Consumption and Final Thoughts
Now that you have looked at the performance of the notebook, you are likely curious how much power that it uses. We showed you that the 45Wh battery lasts just over four hours in the battery test, but let's take a look at how much much power the system used while idling and under a few different CPU and GPU workloads. We are measuring total system power consumption at the wall outlet for this test. We wanted to compare Brazos to Kabini, so we hooked up a monitor via HDMI and disabled each notebooks primary display in Windows. This was done to factor out the different display sizes as that would greatly throw off the results.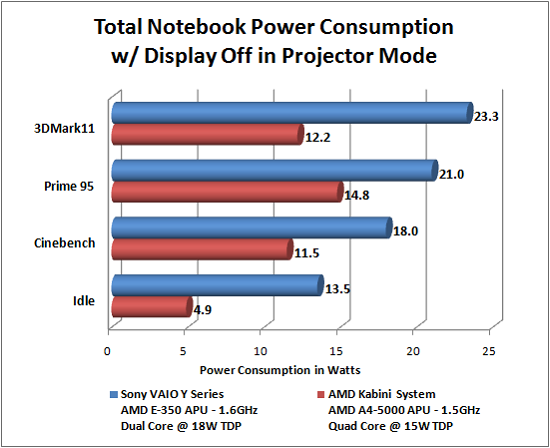 The power consumption results at idle and load are nothing short of amazing. The AMD Kabini reference platform was 2-3 times faster than the original Brazos platform (Sony Y Series) and uses far less power! The AMD A4-5400 APU isn't a power hog at all and at idle the entire system used just 4.9 Watts of power. In Prime95 the Kabini system peaked at just shy of 15W, which is very impressive. Futuremark 3DMark11 is a pretty good test that shows both GPU and CPU load and in game test one (GT1) we found the Kabini platform to use just 12.2 Watts, which is 11.1 Watts less than the Brazos platform. So, you are talking about double the performance and roughly half the power consumption. AMD has done an amazing job with power consumption between these two generations of notebook platforms.
Final Thoughts and Conclusions:
After pulling the AMD Brazos platform (Sony VAIO Y Series) out of storage and using it for the past few weeks along with the new AMD Kabini reference platform we can see that AMD has really come a long way in just two short years. AMD has sold over 48 million Brazos platforms and it was the most successful mobile platform every launched by AMD. It was great at the time and the price and performance was good back then, but today it leaves you wanting more. Switching directly to the AMD Kabini reference platform we could really tell that it felt noticeably faster and the benchmarks confirmed that it was roughly twice as fast as the original Brazos platform. It is also much more power efficient. Better performance and longer battery life at the same, if not lower, price point is the perfect scenario for consumers. This is also great news for AMD as they want to have a competitive platform again for the entry-level and mainstream notebook market and it looks like they do.
AMD says that will have more design wins with Kabini than any other platform, which is great news as they need design wins to sell products. We wish AMD would have given us a retail notebook to try out, but they aren't ready just yet and we were given a reference design for testing. It showed us what to expect with Kabini, but we really want to see some the A- and E- series products in something that is available for you to purchase.
At the end of the day the AMD Kabini reference platform looks to be headed in the right direction and we can't wait to see what the OEM partners do with it. We hope to see some affordable Windows 8.1 notebooks with touch and maybe even some hybrids with all-day battery life and the CPU and GPU power to do real work. It will be interesting to see how this AMD Kabini holds up against some of the upcoming Haswell powered platforms, but it should be competitive in a few key areas. We'll be sure to do some comparisons when those platforms come out!