AMD Kabini Mainstream APU Notebook Platform Preview
Thu, May 23, 2013 - 10:00 AM
Benchmarking Kabini w/ A4-5000 APU
When it comes to 3DMark 11 and the Entry level benchmark the AMD Kabini reference platform does well and has an overall score of E946. This is more than double what we saw on the Sony VAIO Y Series notebook with the AMD E-350 dual-core APU at higher clock speeds, but not enough to compete with Intel Core i5/i7 processors used on many Ultrabooks today.
With 3DMark11 on the standard performance test we see a score of P592 on Kabini, which blows away the P273 that we saw on the original Brazos platform from 2011. AMD has shown a nice increase in performance with this new platform so far!
All of the notebooks we are using in the charts have vastly different memory configurations. The ACER Aspire S7 is using 1333MHz memory in Dual Channel while the Dell XPS14 is using 1600MHz memory though only in single channel. Both of those notebooks are way faster than what we see on the AMD platforms. The AMD Brazos and Kabini platforms both run single channel memory, but you can see a huge difference between the AMD E-350 APU with 1333MHz memory and the AMD A4-5000 APU with 1600MHz memory!
When it comes to video benchmarks x264 HD v5.0.1 was used and we see roughly three times the performance on the second pass on Kabini that we did with Brazos. AMD has significant performance improvements here and the Kabini entry/mainstream notebook platform isn't too far behind the Intel Ultrabooks that cost roughly triple.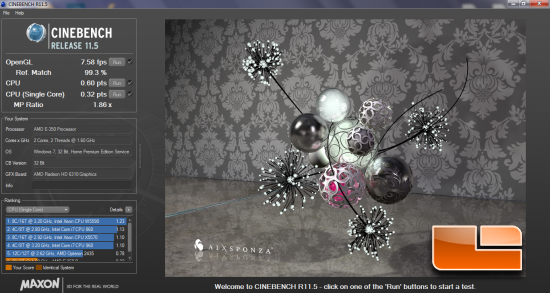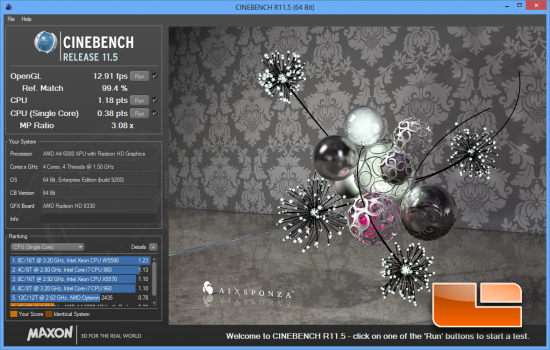 We didn't get a chance to run Cinebench R11.5 on all of the notebooks, but we did run it on the AMD Kabini and AMD Brazos platforms. OPenGL performance went from 7.58 FPS to 12.91 FPS and the multi-CPU benchmark score went from 0.60 pts to 1.18 pts. Not bad performance gains between the two generations, but keep in mind the number of cores also doubled.
The AMD Brazos platform scores 1569 with an SSD and the AMD Kabini reference system scores 2323 with a 1TB HDD. Not a bad performance increase considering the difference in storage drives.

The Sony VAIO Y Series notebook uses a 160GB Intel X25-M G2 SSD and the AMD Kabini reference system uses just a 1TB Toshiba hard drive. The Dell XPS14 storage systems consists of two parts, a 500GB Seagate ST500LT012 2.5″ hard drive as well as s 32GB Samsung PM830 mSATA SSD. The Dell XPS14 is configured in Intel Smart Response Technology, this allows the system to cache the most commonly used files to speed up the system. The Acer Aspire S7 has a pair of Lite-on IT Corp CMT-128L3M mSATA SSDs running RAID 0, so that is why it blows everything out of the water. Knowing this is critical as it does impact the PCMark7 score.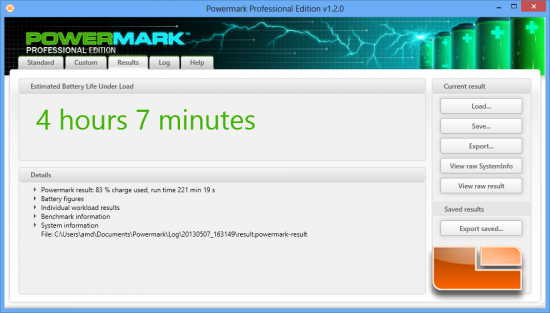 The AMD Kabini reference platform lasted 4 hours and 7 minutes in Futuremark Powermark with the system set to power saver with full screen brightness. Not bad for a quad-core platform with a 45000 mWh battery.