AMD Bulldozer FX-8130P CPU Overclocked to 5.1GHz on Air
Tue, Jul 05, 2011 - 9:43 AM
More videos and screenshots have been posted showing an AMD FX-8130P Bulldozer Processor that has been overclocked up to 5.1GHz with just air cooling.
Rumor has it that the AMD Bulldozer FX-8130P is a true 8-core processor running at 3.8GHz with 8MB L3 Cache and a 125W TDP that costs $320. The video above shows that this person overclocked the CPU to 5.1GHz with what looks like 1.59375 volts on the CPU using the ASUS Crosshair V Formula motherboard and Noctua NH-D14 CPU cooler. Cinebench and Super PI benchmarks were shown, but the results were blocked out.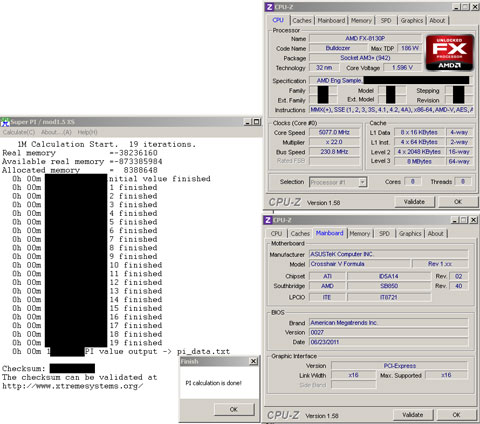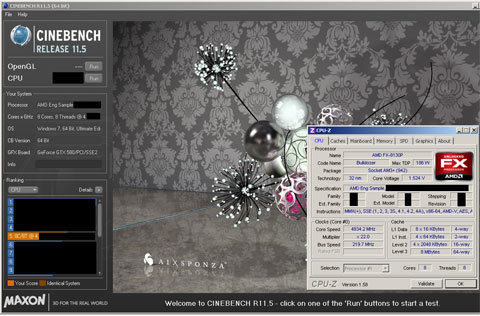 From what we know at this point in time, the FX-8130P is supposed to be AMD's fastest desktop Bulldozer CPU as it features eight processing core that are run at a base frequency of 3.8GHz. Based on the load placed on its cores, the chip can increase its frequency up to 4.2GHz thanks to AMD's Turbo Core 2.0 technology. In addition to the four Bulldozer modules, the FX-8130P also includes 8MB of Level 2 cache memory and 8MB of L3 cache as well as an integrated dual-channel memory controller that supports DDR3-1866 modules.