ADATA Premier Pro 32GB SDHC UHS-1 Memory Card Review
Mon, Jan 21, 2013 - 12:00 AM
Final Thoughts and Conclusions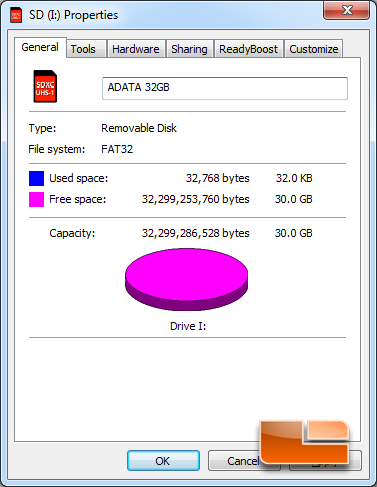 The total useable capacity of this 32GB drive shows up at 30.0GB in Windows due to the conversion from physical GB to the virtual GiB. You can see that that the ADATA memory card uses the FAT32 file system.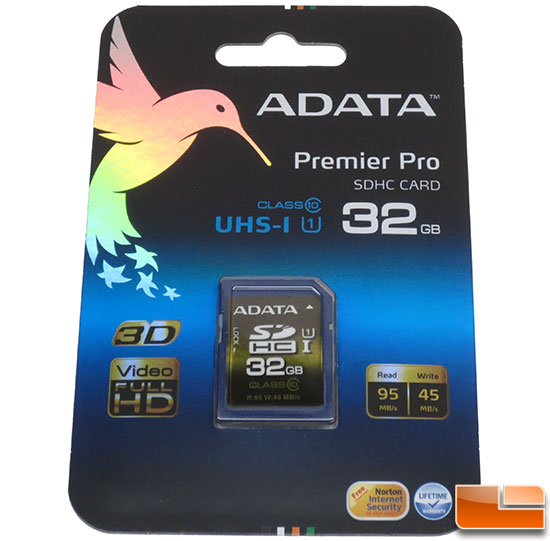 Final Thoughts and Conclusions:
If you are looking for are looking for a fast SDHC memory card then the ADATA Premier Pro series should be of interest to you. We found the rated write speeds were spot on and that is important to photography professionals, especially those that do continuous burst mode shooting or do high dynamic range (HDR) imaging! We used this card on a number of cameras and found no pause or hesitation when taking high resolution pictures as the camera wasn't waiting on the memory card to finish writing!
When it comes to pricing the ADATA Premier Pro 32GB SDHC Card runs $42.90 shipped over at Amazon or $38.99 shipped on Newegg. If you are wanting something a little bigger you an go with the 64GB version of this card that has identical speed ratings for right around $90 shipped. Not a bad price for the speed and you have to keep in mind that these cards are backed by a lifetime warranty.
Legit Bottom Line: The ADATA Premier Pro 32GB SDHC memory card is fast and affordable, but you need a UHS-I supported device and USB 3.0 memory card reader if you want to use that speed!