Acer Aspire Timeline Ultra M3 Ultrabook – Using GeForce GT640M GPU
Thu, Mar 08, 2012 - 7:12 PM
Acer showed the new Aspire M3 of the Timeline Ultra family, at the CeBIT tradeshow in Hannover, Germany this week. This Intel Ultrabook is slimmer and lighter than its predecessors as it measures in at just 20 mm (0.8-inches) thick. That isn't what managed to catch our attention though as the most interesting feature to us, is that the Aspire Timeline Ultra M3 has discrete graphics! This is the very first Ultrabook with dedicated graphics and it looks like it will be using the NVIDIA GeForce GT640M graphics card. NVIDIA hasn't even announced the GeForce 600 series of GPUs yet, so it will be interesting to see how powerful this chip is. If it's running the new Kepler core architecture, it should be able to handle very graphics-intensive games and multimedia apps like a champ. The Aspire Timeline Ultra M3 is also the first 15-inch 2-spindle Ultrabook to feature an optical drive! Acer says this Ultrabook has 8 hours of battery life, so could this Ultrabook be the best of both worlds? Could you imagine being able to game and have battery life in a form factor this small? Things are going to be getting interesting when this model hits the streets later this month.
UPDATE 3/14/12: Acer now says the Timeline Ultra M3 is coming to America!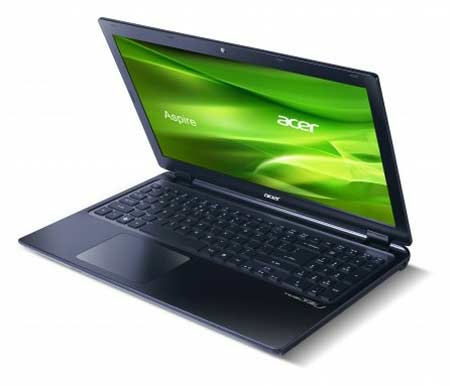 The slim design houses powerful all-around performance features. The latest Intel Core processor and superior dedicated graphics ensure fast navigation and multitasking even with graphics-intensive gaming and multimedia apps. An ample hard disk drive offers plenty of space for large files, and an integrated solid state drive enables instant-on capability. An SSD-only configuration is also available. The highly durable SSD lets users access files faster, run the battery longer, and operate more quietly. The overall experience is ultra-responsive. Acer Green Instant-On provides fast resume in 1.5 seconds from sleep mode. Likewise, Acer Instant Connect automatically scans and registers most-visited access points, letting users connect to the Internet in just 2.5 seconds, which is four times faster than conventional methods.